Most IT companies reach a point where it's time to get the word out about what they do.
That's where marketing comes in.
It's not just about telling people your business exists but making sure your business has a steady demand and is able to charge premium pricing.
In other words – marketing is a path to growth and profitability.
But let's discuss this is a level further.
Why marketing matters for IT companies?
In simple terms, marketing helps you stay top-of-mind.
It's about sharing your story often and in ways that stick.
When people see or hear about your brand regularly, they'll start to trust it.
And when they're ready to buy, they'll think of you first.
It is unbelievably simple.
Only people that know about your offering can buy it from you.
If you want to sell more, ensure more people know about your offering.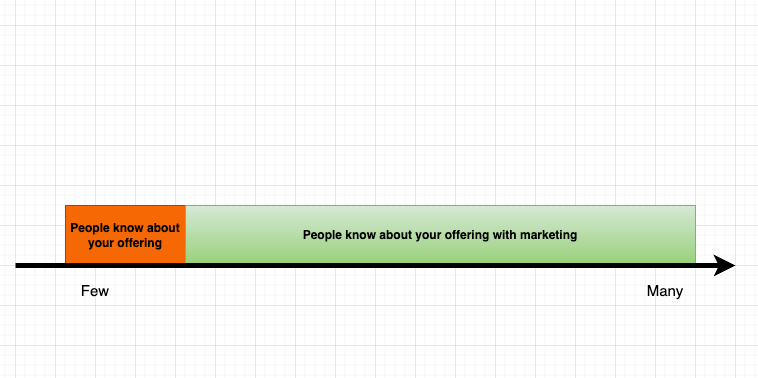 As an additional bonus, good marketing means you spend less time chasing people and more time talking to quality leads who are genuinely interested.
And when you do it right, you can even charge more because people see the value in what you offer.
How can I charge more for IT services or products?
You see, the most straightforward way to increase profitability is to increase the price.
Price increase beats almost any other measure a tech company can make to become more profitable.
However, the price must reflect the value of your offering or nobody will pay it.
Value is a highly subjective thing, even for technology products.
As with most subjective things, it depends on perception and value perception can and must be managed.
This is what marketing is exceptionally good at doing.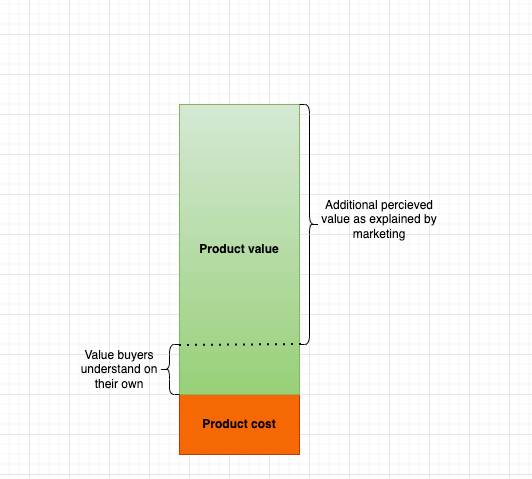 You invest in marketing to manage your buyers' perception of the value of your offering.
So that you can charge a fair price against perceived value.
What is a fair price?
A fair price is what buyers are willing to pay.
And if you want to increase the fair price, you must invest in marketing and manage your buyers' perception.
Or else you end up in a downward spiral of high difficulty to sell and low profitability.
Sadly, many IT companies are in that space.
To conclude, your investments in marketing help sell more of your offerings at higher prices.
But how to start with marketing?
Lets discuss two options you have.
Option 1: Hire a junior marketing employee
Hiring someone sounds great because they're right there in the office with you.
Many companies hire junior people right out of college as their first marketing hires.
I think this is not a good choice for the company of for the employee.
Here is why.
Modern B2B marketing is not a simple affair. For it to work you need to design quite a complex system.
Junior employees are very unlikely to be qualified to do that unless guided by experienced experts in the field.
Moreover, there is a considerable risk that your new hire will be unable to quickly understand your complex products and offerings, particularly if you sell to highly technical buyers.
So, you risk spending time and money with little results.
And quite frankly, junior employees need guidance and on-the-job training. Can you really provide that? Can you help your new employee grow professionally?
If you cannot provide that, it may not only be waste of time and money but also a bad first career step for your new employee.
Option 2: Hire consultants or a specialized agency
Here things are quite different, however, you need to pick your partners carefully.
An experienced partner will bring not only a wealth of knowledge and experience, but also proven frameworks (such as our GTM planning framework) along with them.
It will help you get up to speed quickly, avoid risks and implement best practice based proceses.
In other words, you will reach your business goals faster and at less cost.
You may think external consultants will be expensive. However, I would argue against this assumption.
You see, consultants are hired to do specific jobs and reach specific results. This naturally creates an incentive to work efficiently and optimize processes.
As a result, the productivity of external consultants is no less than 10x higher than that of internal resources.
Really.
The thing is that many businesses, once they are past the decision to hire their first marketing employee, consider marketing labour to be "free" or already paid for.
If, however, you invest even a small effort to estimate the cost of marketing output and results, you may quickly realize the enormous costs involved. 
When planning IBD Business 7 years ago, we assumed we could deliver world-class all-included marketing for tech companies at a cost less than a single full-time employee.
This still stands. 
How to choose external B2B marketing agency or consultant?
I would recommend looking at the following:
Has extensive experience in technology marketing and sales in the B2B space

Preferably has technical certifications and hands-on experience of delivering on sales targets.

This is important to ensure flawless collaboration with your sales team.

Knows economics of technology business, particularly SaaS business model

This is important to make sure marketing plans fit with business economics.

Demonstrates professional competence and shares professional content with the community

Somebody really knows things when he or she is able to explain and teach others. Producing original content is a strong sign of competence. You probably would prefer to work with somebody who can bring knowledge and insights to the table.

Have strong references

Have strong technical competency in marketing automation and other marketing technologies. You need somebody able to integrate different marketing and sales technologies and make sure your marketing and sales (CRM) tools are connected.

Insists on early involvement of company's management and sales in the planning process.

This is a very good sign that your partners take the partnership seriously.

A bad sign would be your partner avoiding you and only working with your marketing team (if you have such).
Starting with marketing might seem like a big step to take.
However, it is essential for business growth and profitability.
Partnering with a specialized agency or consultant grants you instant access to world-class competence scaled to your needs and budget.
You get an increased probability of meeting your business goals faster with less risk than hiring a junior employee.
Basically, you get a variety of different competencies (strategy, project management, content creation, marketing technologies, analytics), which otherwise would require a sizeable team packed into a scope that you need and actually can afford.
What not to like about it?
If you are interested in exploring if and how IBD can help you with marketing and business growth, go ahead and schedule a call.