This blog was edited and updated on 01.11.2022.
In the last 4 years, we have worked with tens of technology companies across Europe and participated in running over 100 digital campaigns in over 25 countries across the world. Here are some learnings.
In many cases, we were responsible for end-to-end campaign execution and more often we have been involved with just one or two of elements of the Digital Sales Engine. Creating a strategy, as example. Or strategy and key pieces of content.
In all cases, we are very passionate about customer success and often are ready to walk the extra mile to deliver great results.
Unfortunately, we also have seen campaigns fail from time to time.
What are common problems with lead generation process in B2B?
Lead generation process should be approached as a system.
The system means that in order for the campaign to work, each element of the campaign need to be on the necessary level of quality or quantity. A a problem with any element would drag down the performance of the full campaign.
Its like a phone number. Get one digit wrong and you cannot reach the person you want to talk with.
So the most important challenge that companies need to solve to be successful with lead generation is to build a system.
The more compromises are made, the less is the probability of success.
How does the lead generation system or Digital Sales Engine look like?
Over time we have updated our Digital Sales Engine concept and it consists of 5 distinctive elements based on GTM strategy and execution parts of it. These elements are:
Marketing content
Marketing automation
Analytics
Optimization
Sales management

Each of these elements (the green brick in the image above) need to work for the whole system to work.
What if a company has an unclear/insufficient Go-To-Market strategy?
Sometimes customers urge us to not spend time and money on strategy but get right to execution.
It's the results that matter, they say, and we want results fast.
Goals and objective?
Ehhh… just make it work! We are too busy. And want a lot of leads fast.
If GTM strategy is not well defined, there is a poor return on marketing investment or in other words – it is more than likely that money is going to be wasted.
In practice, it means your ads are running, but few people are clicking. And even those that visit the landing page do not register. Key metrics to look for is CTR (Click-through rate) on ads and CR (conversion rate) on landing pages.
This happens because competition for attention is extremely high. Unless you manage to target the right people, with the right message at the right time on the right channel, your campaign will not work or will not work well.
You should aim for around 0.9% CTR on Facebook ads and around 0,5% on LinkedIn. Conversion rate results on landing pages vary dramatically. Our Facebook campaigns have reached over 20% CR, although this is not long-term typical.
To make it work you need to figure out exactly whom you want to target, what are the key messages, which media to use and so on. In other words, you need to plan Go-To-Market strategy.
Below is a tried and tested GTM strategy model that we have developed an use.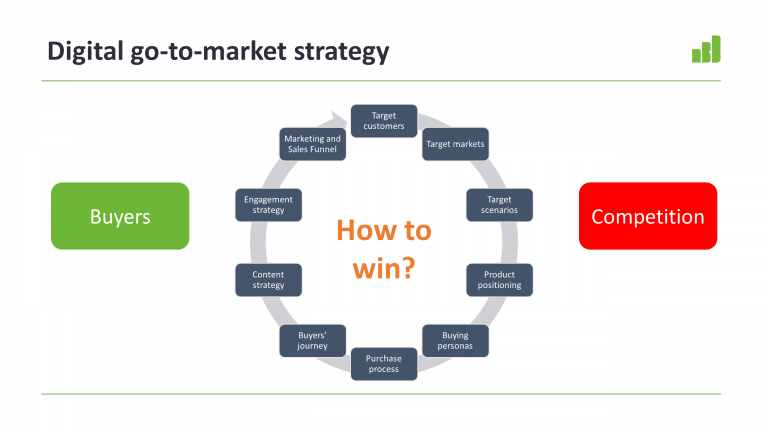 IBD Consulting's Strategy framework.
Never try to save time and money on strategy, unless your offering os obvious. It is very little you might save this way.
What if marketing content is of poor quality?
The company gets good results with the top of the funnel; however, it is difficult to guide prospects further down the funnel. If contacted, prospects refuse to talk with you.
After getting a two-page sales brochure instead of the whitepaper they signed-up for, many of them distrust the company and feel that your promise of quality content was just a click-bait to squeeze out their contact information and enable you to make cold calls.
Because content is poor, the company fails to establish authority and prospects look down on it with suspicion.
Even more – the company may be used by prospects as an alternative to their preferred choice, just to illustrate to management how poor the other alternative is.
So, you are, in fact, making your competition look good.
Nobody wants that.
Perhaps it would have been better not to publish that poor-quality content at all.
One recommendation here – even if you are not producing any content apart from your website, make sure anything you publish (including website copy) is proofread by a native editor.
 Or else, as one of our customer loves to put it, you risk sounding like Borat.
Do you remember Borat?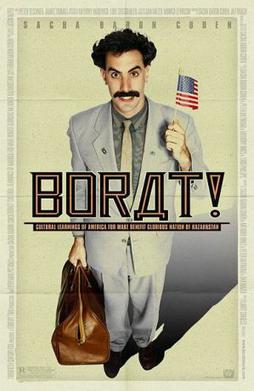 It is better not to be like Borat.
What if the company does not have a marketing automation?
Well, let's start with the reason why do you need marketing automation in the first place.

To close the deal, you need to involve hundreds or thousands of prospects. They all need to learn about your offering. Unless you automate these efforts, you will get stuck with massive manual work and a mess.
As a result, the marketing team spend lots of time to send e-mails and compiling the lists of customer segments.
If you don't have marketing automation, analytics is limited to the top of the funnel data and CRM data from sales.
As a result, the company has no idea what is happening with middle and bottom of their marketing funnel, how much a lead costs in which channel and what is the forecast of qualified leads to hand over to sales the next month.
Not good again.
Lack of automation is likely to be the biggest bottleneck in lead generation.
I do not think it is possible for a tech company to scale its business without marketing automation at all.
What if there are issues with analytics?
Well, then you have a serious challenge. However, you are not alone (I hope it helps to know that!).
Our experience shows that most B2B companies have an issue with marketing analytics.
The challenge here is to bring together data from various sources in a meaningful way.
You want your data from Facebook to be on the same dashboard with data from LinkedIn ads and on the same page with your current marketing funnel and cost per lead. Facebook, however, might not be willing for its customers to access its data outside its interface, so it may be limiting the data that can be extracted.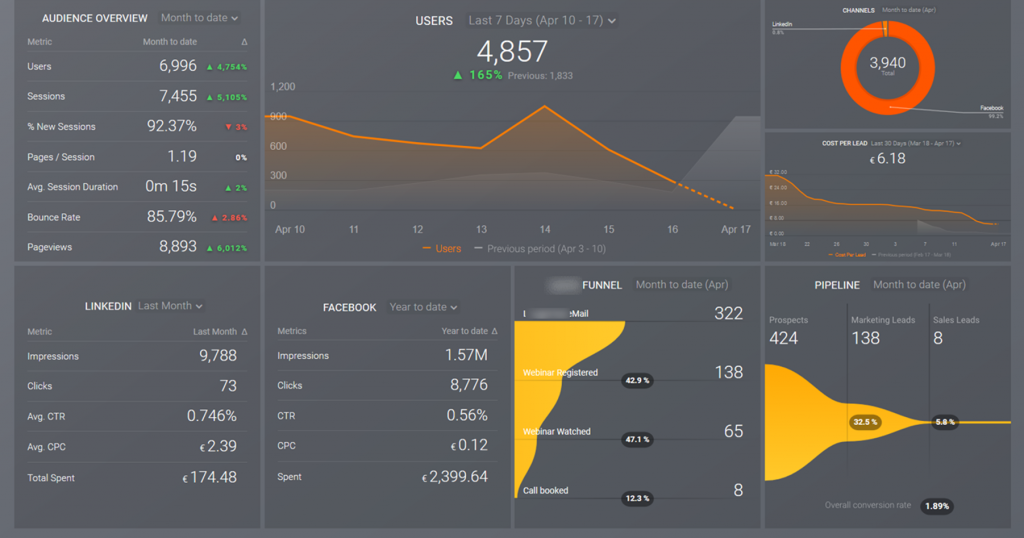 We have solved this solution and most of our customers have access to near real-time dashboards about the campaign performance.
It is not an easy challenge to solve and we are yet to find a solution that we find good enough. Meanwhile, we continue researching this area, including prototyping Power BI and Google Data Studio based solutions.
The lead generation campaign is launched and forgotten.
One of the biggest mistakes we made when we started our business is not planning enough time and resources for campaign optimization.
In fact, experience shows that campaign performance management over the 6-month period often takes more resources and costs than strategy, content and marketing technology implementation together.
You cannot just launch and forget.
Optimization deals with investigating and studying analytics and finetuning campaign: messaging, audiences, visuals, automation flows, landing pages and other changes that can impact conversion rates and quality of leads.
Unless somebody does it, companies risk having a low number of leads and excessive spend on advertising.
We have seen that skilful use of multiple versions of audiences, channels, ad messaging and creative can reduce cost per lead by as much as 10 times.
If you reduce cost per lead 10 times, you get 10 times more sales with the same advertising budget.
We have seen that experimenting with just 3 different visuals for a Facebook campaign the best performing visual is producing 9 times better results than the worst-performing.
Without that experiment, we wouldn't have known that.
The example below illustrates how wildly different results (and cost per result) are generated with five different versions of the text.

Unless you do disciplined experiments, you cannot decrease the cost per lead acquisition and ultimately – decrease the cost of customer acquisition.
Optimization is critical to maximizing return on marketing spend. The best practice is to have a weekly review and adjustments once, twice per month.
Lead management
Lead management is the last and perhaps most important mile to success.
Even if your marketing team has a perfect system for lead generation, but nobody follows-up on warm leads, marketing will fail to demonstrate success.
It is extremely important, therefore to make sure sales is involved in the early planning of the campaign and they are managing incoming leads and providing feedback about the quality. It is best for marketing and sales to have a formalized mutual SLA (Service Level Agreement) in place to manage lead quality and handover process.
It is best if marketing qualified leads (MQL) are passed via marketing automation to junior sales (BDR). This person then qualifies the lead by doing additional research and preferably following up over the phone. After that, if qualified, lead is passed over to senior salesperson (Account Executive) to further manage the sales opportunity.

We see that most organizations underestimate the sales effort which is required to qualify leads and manage sales opportunities that arise as a result of lead generation.
Sadly, in most organizations, marketing and sales are worlds apart. On several occasions, we have had to step up and get involved in helping our customers do early-stage sales pipeline management even if it was not in the scope of work.
At the end of the day, we want our customers to be successful. Sometimes it does take extra hours.
How to improve B2B lead generation process for tech companies?
As we have seen earlier, each component of the lead generation system should be sufficiently good for the system to perform well.
You cannot make compromises with its elements and still expect the system to work well.
You also cannot just ignore some elements of the system (such as sales management).
Our recommendation is to have a small and dedicated team working on the system that must involve salespeople.  
The smaller the team the better as there are less relationship and communications complexity involved. Each team member must have a clear responsibility, authority, decision making and reason to participate in the meetings.
From another hand, when multiple stakeholders from customer side are involved (particularly if they tend to second guess each other), the more difficult is to move ahead and the more expensive and inefficient the project becomes at the end.
In fact, our experience shows that the more control we as consultants have over the whole system, the better results and the faster we can execute.
Some of the best performing campaigns have been the ones where we have controlled it all up to running pipeline management calls with sales.
So if you want strong lead generation results above all (as opposed to giving a learning opportunity to your team which is a worthwhile goal on its own), it may be a good idea to let your consultants run the show end-to-end.