This blog was edited and updated on 01.11.2022.
Today lead generation with digital marketing is the best way for a technology company to grow business, particularly if you have a SaaS solution to sell. However, it also is one of the fastest ways to spend money with little to show for it.
As a growth marketing consultant and a founder of IBD Consulting, I have been working with a good number of technology company founders and leaders.
Here is my take on the top 10 things they absolutely must know about technology marketing.
1. Content marketing sets buyers' requirements
When looking for solutions, over 90% of buyers start their research by googling around.
They'll do so even if they know your company and product simply to avoid making a buying decision they may be criticized for later.
As a result, before contacting sellers, buyers learn about the problem and possible solutions and have a very short list of companies to approach.
In fact, 57% of the customer buying process (Gartner) is already over when prospective b2b buyers contact the seller.
This is crucial to understand.
Why?
Because today customers increasingly research solutions on their own and only contact sellers when they have already developed a shortlist.
If you have been in sales long enough, no doubt you know how important it is to be the one who shapes customers' expectations and requirements.
So, help your buyers research and understand the problem. Help them understand the solution landscape. And only then talk about your own product.
Have high-quality marketing content ready and easily available. This is called inbound marketing.
Or else… your competitors will educate your customers and shape their requirements in a way that fits with their solution.
2. The key task of b2b marketing is to generate qualified leads
Is your marketing generating leads?
The role of marketing has profoundly changed and today lead generation is the main task of b2b marketing.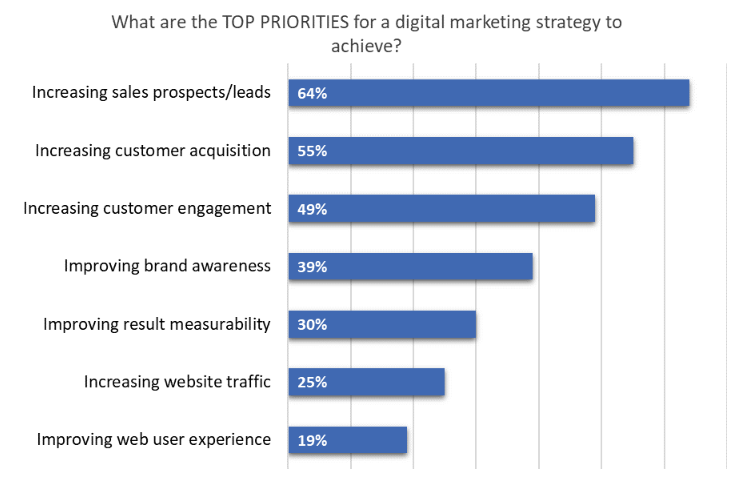 You should expect around 30% of leads to come from marketing. If your number is less than that you may need to rethink your marketing investment expectations.
3. Marketing content generates free qualified leads. So does SEO
While there is no free lunch, there are ways you can substantially decrease your cost per qualified lead.
You should certainly invest in search engine optimization (SEO). SEO is key to ensuring buyers can find you when they search for information on or solutions to their problems. B2B companies on average should aim for at least 30% of traffic to come from search engines.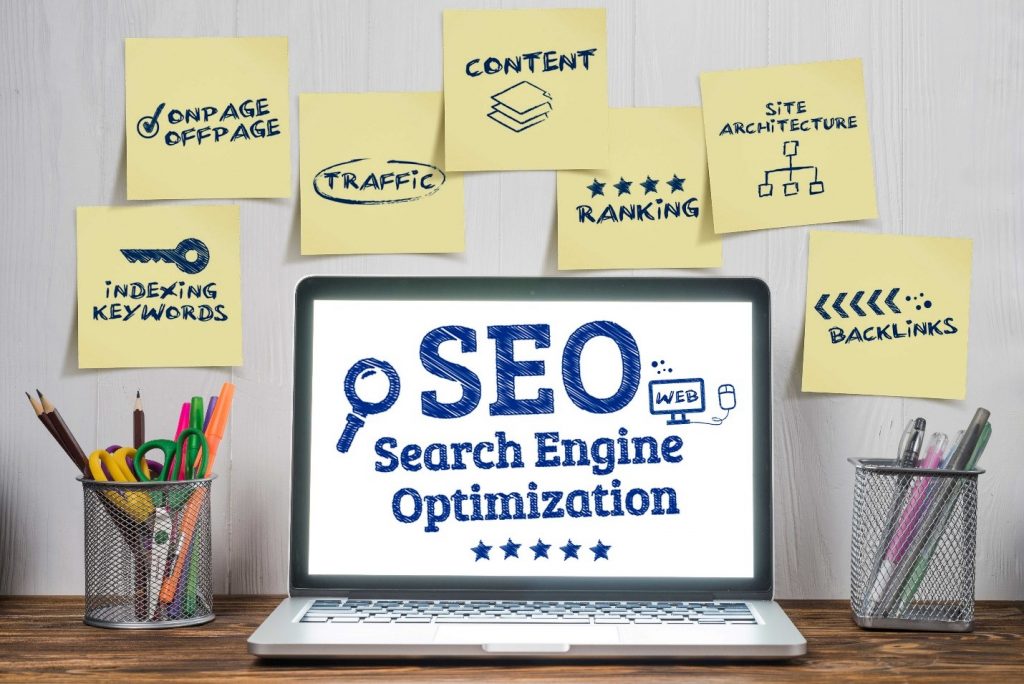 When considering the costs of SEO, think of what it would take to buy the same traffic via advertising. In most cases, the cost of proper SEO would be much cheaper than buying the same visitor traffic through advertising.
However, you should keep in mind the timeframe and uncertainty. While lead generation activities using paid media will provide an immediate flow of leads, for SEO to make an impact it will take considerable time and results cannot be guaranteed.
Content marketing—such as blogs, videos and whitepapers—creates an additional 'surface' for your website to be found on the web or on your pages on social networks. The more units of content marketing you have, the higher the chance of attracting additional prospects via SEO.
4. Technology marketing is a system, not a bunch of components
Digital marketing is complicated.
A B2B customer just doesn't place an order after a single visit to your website. In fact, the buying decision in B2B markets takes on average 4.7 months.
As a result, you need to have a system in place which is aligned with the way your customers buy (this is called the customer journey).
It is not an easy thing to do. It is necessary to master numerous digital marketing concepts, technologies and processes, understand the sales process and put it all together in a customer journey.
It's not about Facebook ads, Google, Instagram, blogs, whitepapers or whatever.
It's not about posting on social networks or SEO.
It's about integration, a systemic approach, analysis and continuous improvement.
It's not what you do, but how you consolidate multiple avenues into an effective marketing funnel.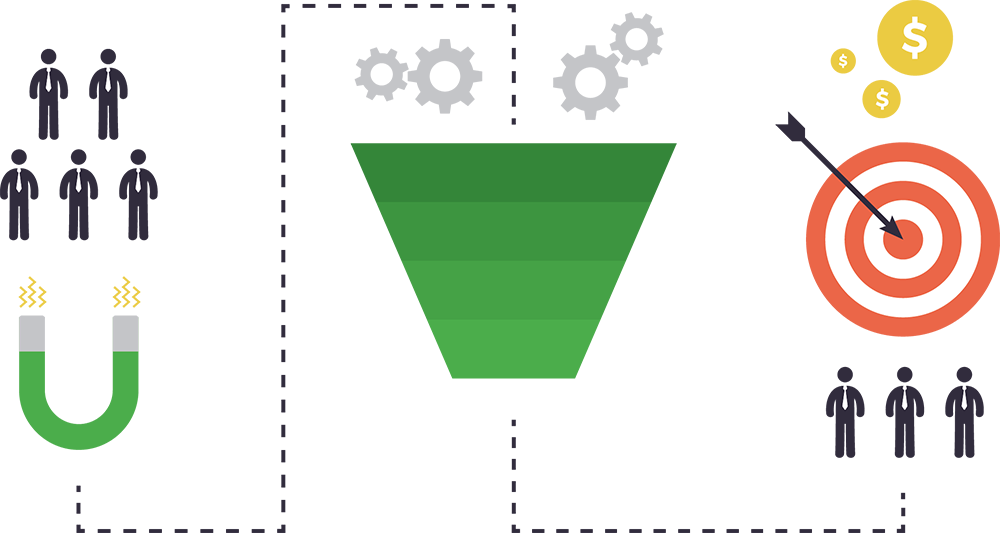 To create a working Digital Sales Engine you need to have a very clear Go-to-market strategy in place.
5. Beauty alone doesn't sell
Beware of beauty!
Really!
If you subscribe to the idea that the purpose of your marketing investment is lead generation, you need to focus your investments very carefully and ensure your digital assets are aligned with your strategy and customer journey.
Do not rush into commissioning a stunning website or corporate movie before you have a clear understanding of who your customers are, your competitors' strengths and weaknesses and what the positioning of your offering should be.
It may turn out (and I have seen it many times!) that your beautiful website is impossible to integrate with marketing technologies or even to edit without hyper-expensive work by the developer—who, by the way, is on vacation for the next three weeks. Or your expensive product movie doesn't actually feature any of your product benefits and as such is pretty but useless (though everyone likes it).
6. Time is money
We all seem to know this.
However, I often see companies spending time and resources on marketing tasks that would be performed better and cheaper by specialists.
Just think about the cost of time.
If you are responsible for 1M revenue and we assume you work 8 hours per day, an hour of your work equals revenue of 500-700 Euros at least.
Do you really want to manage that landing page project on your own taking your product developers away from your product improvement?
Chances are it would be much cheaper and more efficient to hire external technology marketing experts to take care of your marketing.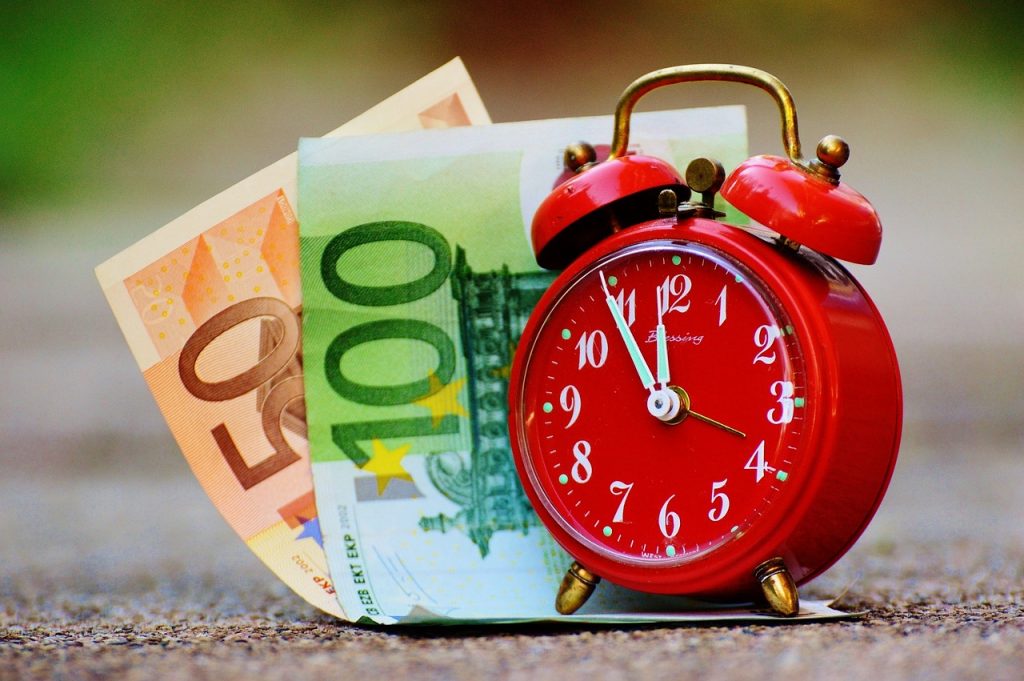 Another important time aspect is time to market.
You see – preparing a strong digital marketing strategy and Go-to-market plan, developing marketing content and preparing for launch can easily take a couple of months and up to a half year.
Add to that time required for customers to make their decision.
We are now looking at a time of 6-12 months until your marketing will start generating revenue.
Unless you start planning well before your product is ready to hit the market, you will be too late with your marketing.
Unfortunately, most smaller technology companies are.
Look at the industry leaders, like Microsoft.
It's not uncommon to announce the product 12-18 months before general availability. You should do the same – start marketing before the product is ready. Have a line of beta testers.
Otherwise, you risk your product availability to be decoupled from demand on the market and you will have to be able to somehow survive a few months at least to bridge this gap.
7. B2B marketing can only succeed with good sales and marketing alignment
Today's marketing technologies allow marketers to do much more than ever before. As we discussed in point 2, marketing's main task these days is generating qualified leads.
A modern marketing approach allows marketing to take buyers much further in their customer journey and in many cases in a very automated manner.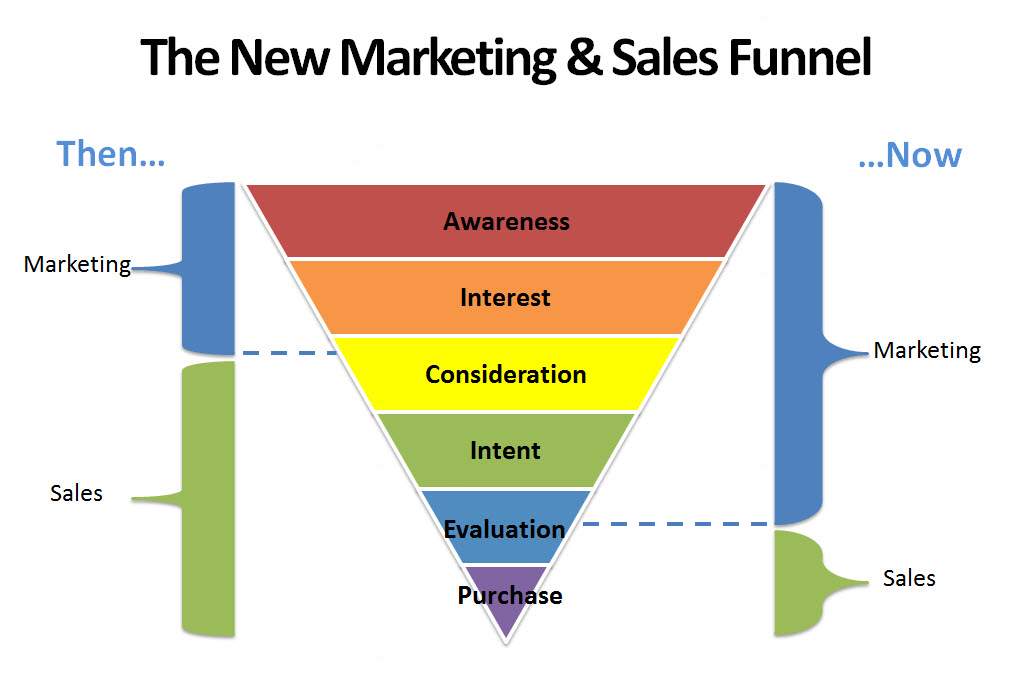 As an example, marketing can generate awareness about your product and register interested prospects that would like to access a whitepaper or participate in a webinar. Prospects might be further nurtured with case studies, demonstrations can be scheduled and a product trial can be started.
However, marketing cannot succeed on its own.
Failed collaboration between marketing and sales is something I would certainly put as the Top 1 reason why lead generation campaigns fail.
Because the marketing funnel passes marketing qualified leads to the sales team, it is extremely important that both departments collaborate on strategy, buyer persona creation, customer journey design, lead definition, the lead handover process and much more.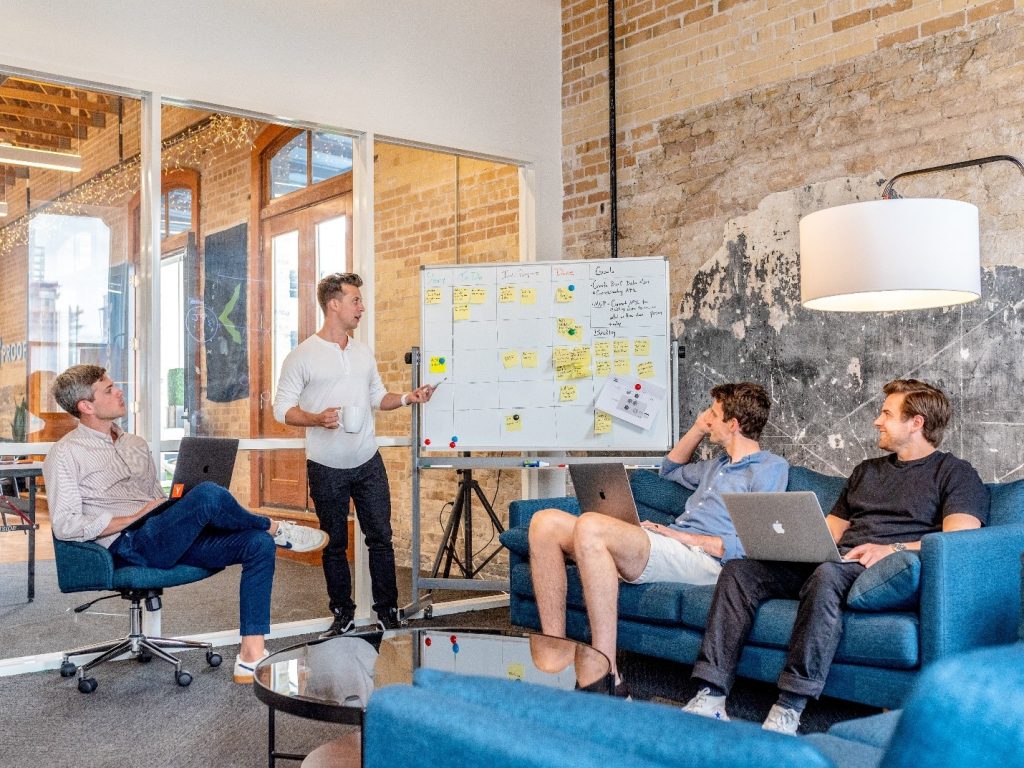 For this collaboration to be successful, it is critically important that the most senior leader actively supports this effort, fostering collaboration and rewarding the right collaborative behaviour.
Yes, I am talking about you, dear company founder!
The collaboration between your teams is such an important matter, that you need to personally invest time and effort to make sure your sales and marketing teams work constructively together.
8. You can't scale business without marketing automation
The ugly truth of digital B2B marketing is that out of all visitors to your website, only a very tiny fraction will buy anything.
At the same time, unless you make an effort to nurture your leads with relevant content, continue engaging over the buying process and stay on at the forefront of their minds, the chance of your marketing generating leads is even lower.
Hence, it is necessary to do both: use marketing content to generate significant traffic to your website and marketing automation to handle hundreds and thousands of relationships.

According to IDC research, marketing automation is the third most often used tool by successful technology companies. There is a good reason for that.
Marketing automation is the magic that helps your marketing achieve more while automating things like building your marketing funnel, scheduling demos, identifying interested prospects and making sure they read your latest case study, helping trial customers succeed with onboarding e-mail sequences and much, much more.
9. Get on the shoulders of giants – partner up!
What if you could get your solution in front of thousands of prospective customers who are looking for a solution like yours? It may actually be easier than you think.
Several leading software industry players, such as Microsoft, offer the possibility to use their marketplaces, which they actively promote to their own customers.
If your cloud solution is based on Azure, the place to be is Microsoft Azure marketplace.
Even more—if your solution is based on their technology, they might be interested in helping you sell it. Really! There is even a dedicated co-selling program at Microsoft.

10. Marketing is an investment. Qualified leads will cost you.
If you go for a swim, prepare to get wet.
If you want to grow your business, be ready to invest.
Initially, the cost of generating one qualified lead for a business software solution will likely cost up to a hundred Euros and possibly more.
As a result of continuous learning and optimization, your costs are likely to decrease perhaps to a level below a hundred. However, you can also save on costs if you choose to go to markets with less competition. As a general rule, the most expensive markets for lead generation are the US and the UK. I would recommend first considering markets with less competition.
On average B2B companies invest around 9% of revenue in marketing (there are wide differences between companies). A good rule of thumb is to invest the same percentage of revenue in marketing as the target percentage revenue growth.
Venture capital funded SaaS companies spend 30-42% of their revenue on sales and marketing with up to 15 months subscription time to recover the marketing and sales costs of acquiring a customer.
Seems too much?
Perhaps it makes sense to first calculate your current customer acquisition cost. Divide your sales and marketing costs by the number of new customers per year.
The result may surprise you.
11. Demand transparency
And one more thing…
Irrespectively if lead generation is performed by an in-house team or external consultants, you should demand full transparency about the marketing and sales pipeline and respective costs.
Ideally a single-view dashboard with a summary of key metrics, like the one below.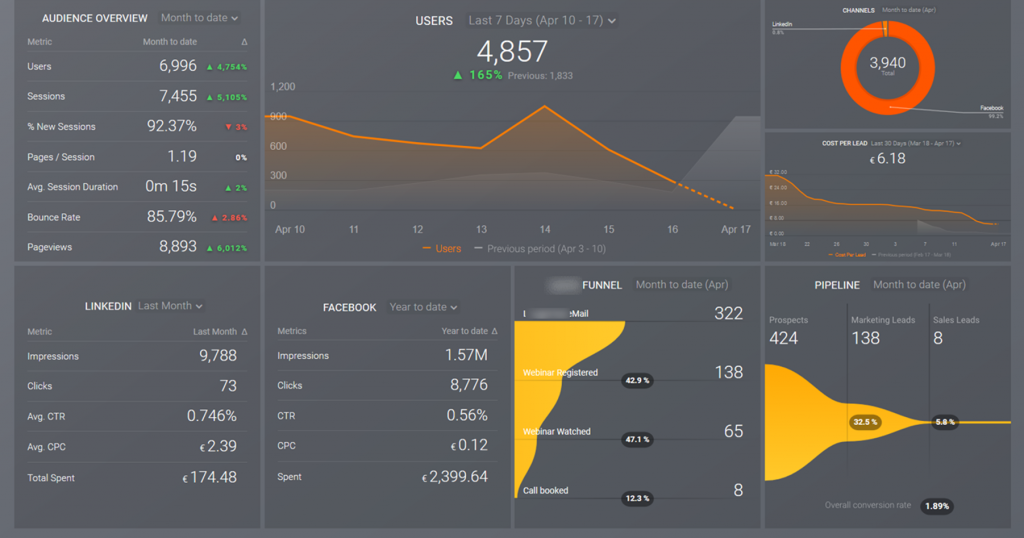 Having a single view campaign dashboard that pulls together data from all related sources helps significantly increase manageability of campaign performance and ensures marketer's accountability.
Conclusion
While technology companies in Europe are every bit as capable of developing world-class products, for some reason many lag behind their US counterparts in terms of marketing capabilities.
In summer of 2019, a survey of the top 250 Microsoft partners in terms of their digital marketing capabilities revealed that only around 37 (here I rely on my memory as I did the counting myself manually back then) are from Europe.
I see this as a significant business opportunity for tech companies and we at IBD Consulting are fully committed to collaborating with tech companies to implement world-class marketing and help generate qualified leads.