Marketing automation, as the name suggests, is a software (usually SaaS) tool that allows the automation of a large number of b2b marketing and early-stage sales-related activities.
However, most of its value lies in the ability to:
understand the behaviour of your prospects better,
engage in automated, yet highly personalized messages
and guide them through the customer journey.
To a large extent, it is marketing automation that brings the concept of inbound marketing to life and enables marketing qualified lead (MQL) generation.
Why do you need marketing automation in B2B?
A very short answer: because you cannot grow your business without it.
There are several compelling reasons behind that. Let's look at each of these.
Handle relationship with thousands of prospects
Buying decisions in B2B do not happen at the first contact. The number of customers that makes a purchase can be as little as 0,1% of the website visitors.
As a result, for marketing to generate even a few deals, it is necessary to communicate with, educate and nurture relationships with thousands of prospects or in other words – invest humanly impossible effort. Moreover, sales cycles take months even years and you need to stay on top of your customer's mind for all that time.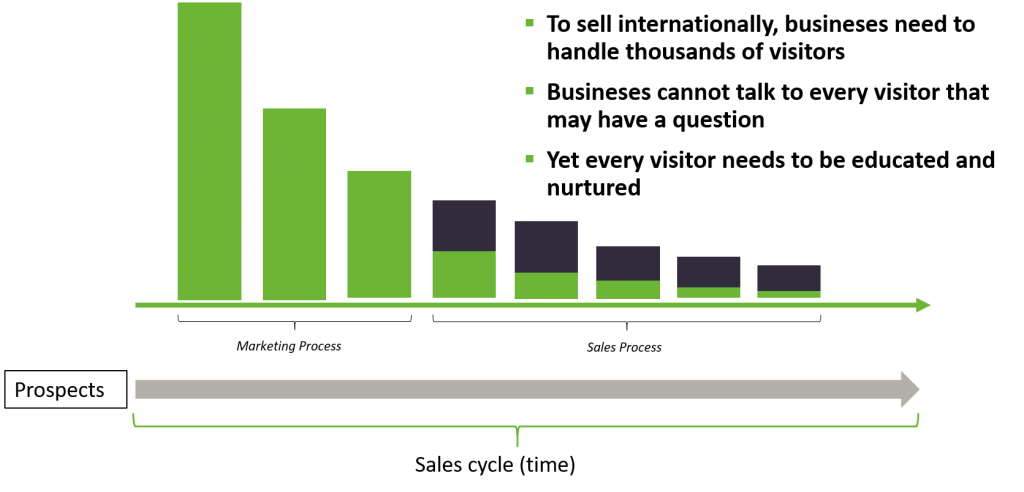 Marketing automation can take care of the registration of your prospects,
personalized marketing content delivery and scheduling activities, such as online product demonstration with your sales team.
As companies grow, automating these activities can quickly become critical for continued growth.
Generate Marketing Qualified Leads
Automation allows combining contact profile data (what they enter into registration forms) with behaviour data. This allows to identify qualified leads and hand them over to the sales team.
A simplified concept of this is depicted below.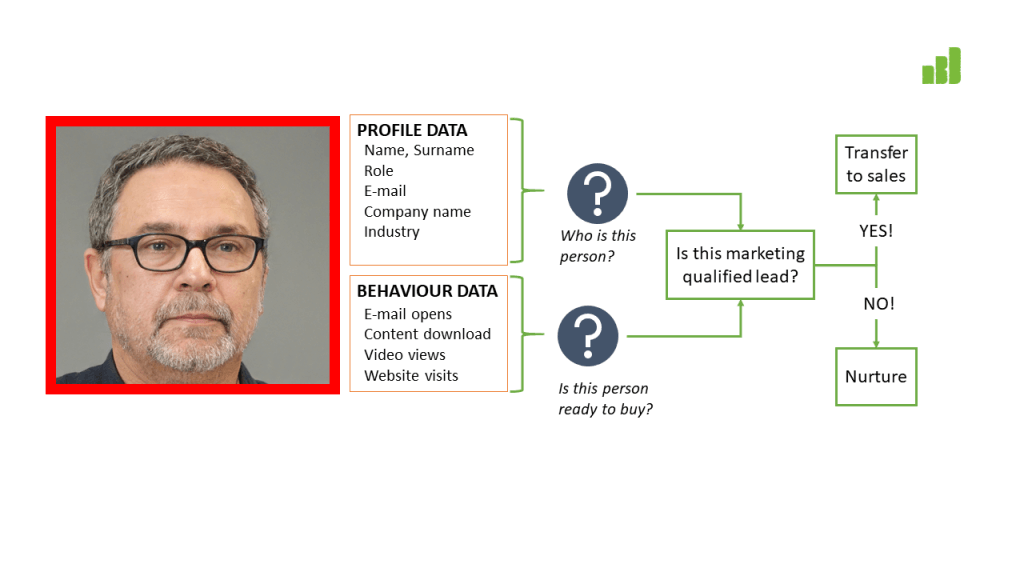 One of marketing automation key features is lead qualification. This can happen if profile data that people leave on registration forms is combined with behaviour signals from e-mails, website and other sources.
Marketing automation allows qualifying leads based on profile and behaviour data.
Create high converting marketing funnels
Planning customer journeys help organizations to market and sell their products the way their customers buy. However, to implement a customer journey, it is necessary to put together a marketing funnel.
B2B Marketing automation allows to register prospects and provide them with content that is relevant for them and continue delivering additional content to gently guide prospects closer to purchase decision.
Landing pages often serve as an entry points into marketing automations.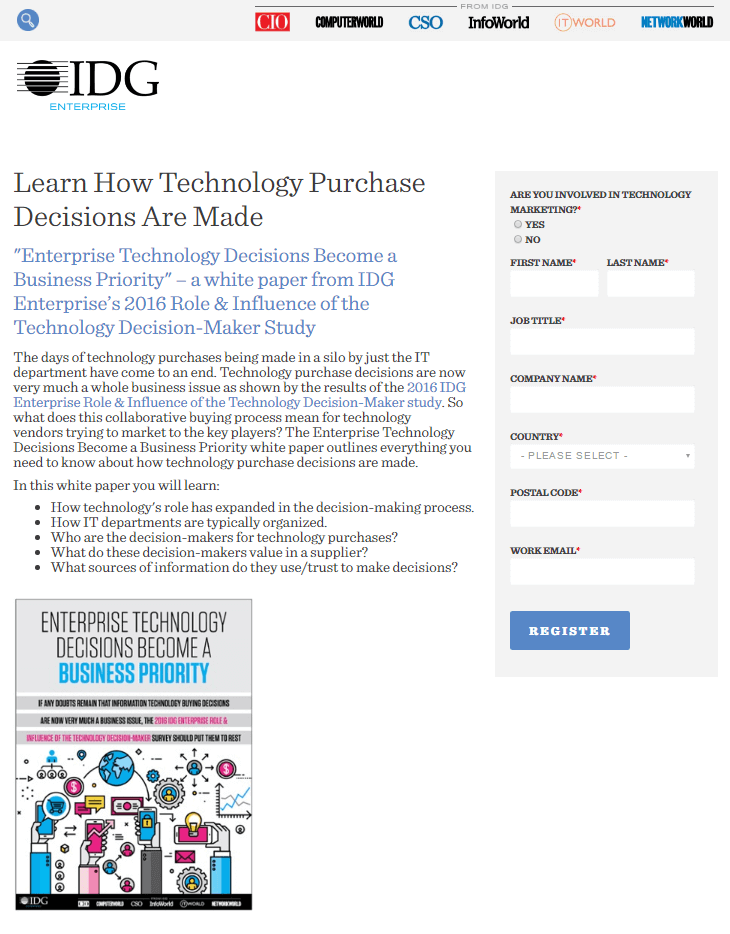 For example – before a prospect would be interested in a solution, we need to find a way to make sure prospect understands the problem she has. This means that the marketing content we need to prepare to make sure contact understands the problem is different from the material used when a prospect is already interested.
The illustration below provides a good overview of how marketing automation can adjust to different prospects behaviour.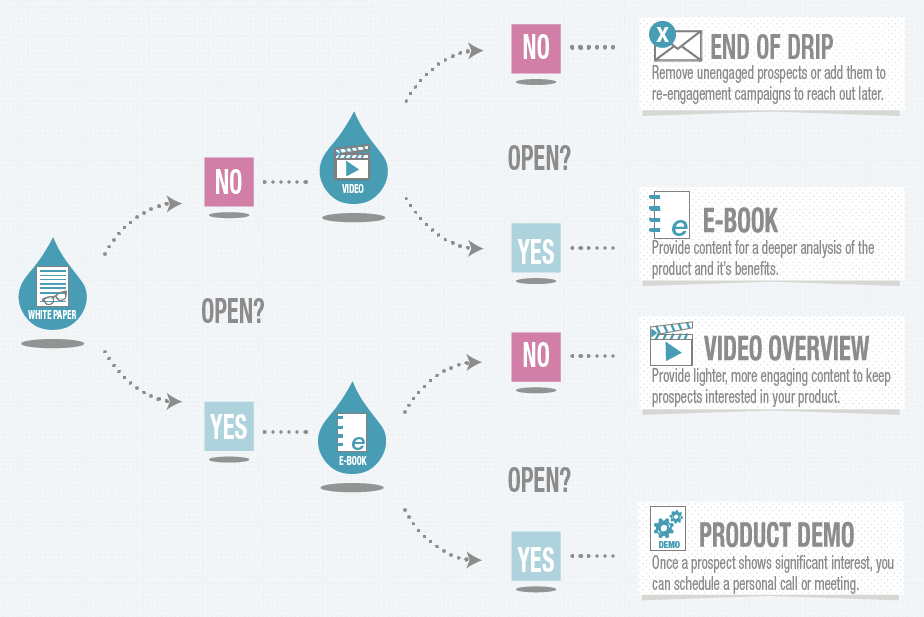 Marketing automation allows us to understand customer behaviour and automatically trigger the delivery of additional marketing content, offers or messages in line with the buyer's journey and principles of inbound marketing.
Below is another conceptual example of the marketing funnel that can be implemented with the use of marketing automation.

Increase SaaS customer success rate
Email-based automation is an excellent way to onboard your SaaS customers and helps them learn and use the product. On-boarding sequence of e-mails can really make a difference in customer success rates. Moreover – automation can be integrated with your SaaS aplication on API level and proactively help customers if they have difficulties with certain aspects of your product.
After you have spent a significant amount of money to get a potential customer for a trial, B2b marketing automation is a necessary component to convert them to paying customers, help to be successful and drive renewal when the time comes.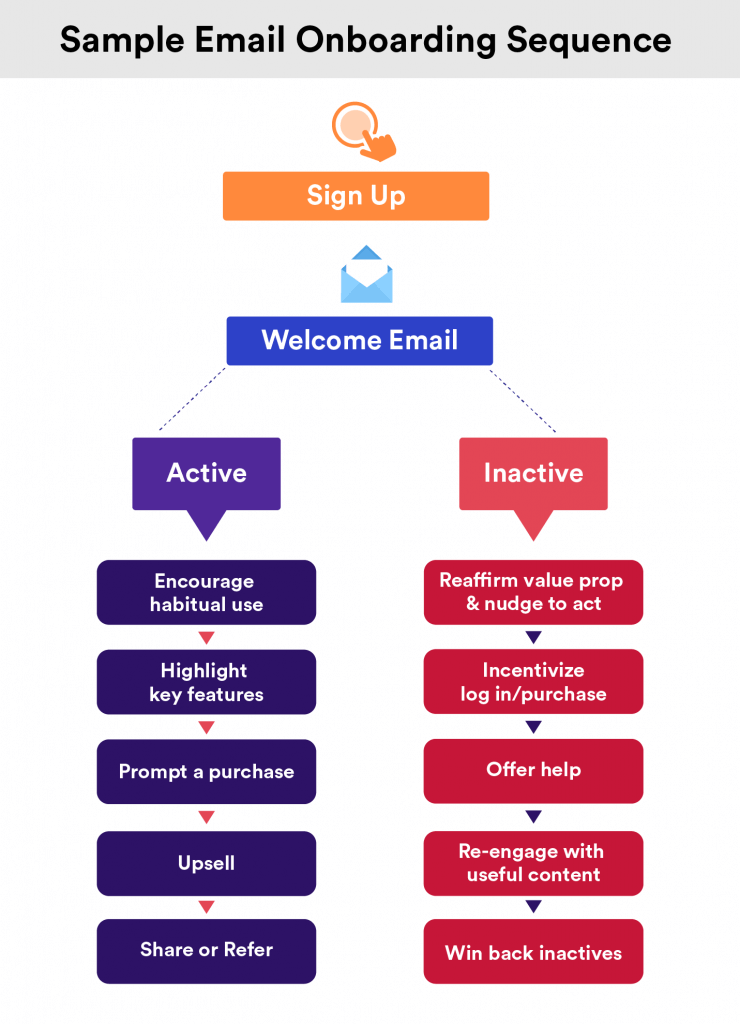 Track your customers along the customer journey
Automation allows planning and gathering of prospect profile information and behaviour analytics. This allows an in-depth understanding of customer activities and motivations even before your sales team has had a chance to talk.
As a result, it allows better optimisation of the marketing journey and increases lead generation.
The starting point of knowing your prospects is exchanging a valuable marketing content for their contact and profile information with the use of an online form on a landing page.
While website analytics only tracks events on the website without regard of specific prospects, marketing automation allows understanding individual prospect behaviours on the site, interaction with e-mail and marketing content, such as live or on-demand webinars. In addition, it also allows to understand better what of your marketing efforts are most important for customer conversion (this is called attribution).

Available behavior analytics allows for engaging prospects in a highly personalized way.
As an example, you would probably want to send a different message depending on the fact if the lead attended the webinar, registered, but didn't show up or participated and then dropped out. Additionally, you probably would want to handle differently a junior manager who signed-up for your whitepaper and CEO of the well-known corporation.
Save on marketing costs
As digital advertising markets mature and costs increases, companies need to look to maximise the value of every prospect they have. B2B Marketing automation enables us to have direct and free communication with customers who have agreed to be contacted, using their most widely used communication channel for business – their e-mail.
From time to time, you would want to use paid marketing activities, such a remarketing targeted at known customers. However, for the most part of communications over the buyer's journey, you wouldn't need to pay anyone as you are using the channel and contacts you own.
Elevate the contribution of marketing
Marketing departments in many B2B companies are understaffed and underfinanced. Why is it so?
It is because traditionally, marketing was not able to justify extra investments and show a definite impact on revenue.
Adoption of inbound marketing principles and use of marketing automation can allow marketing to become a revenue-generating business unit.
By the way – over 90% of marketers say that marketing automation is very important for overall success of their marketing projects.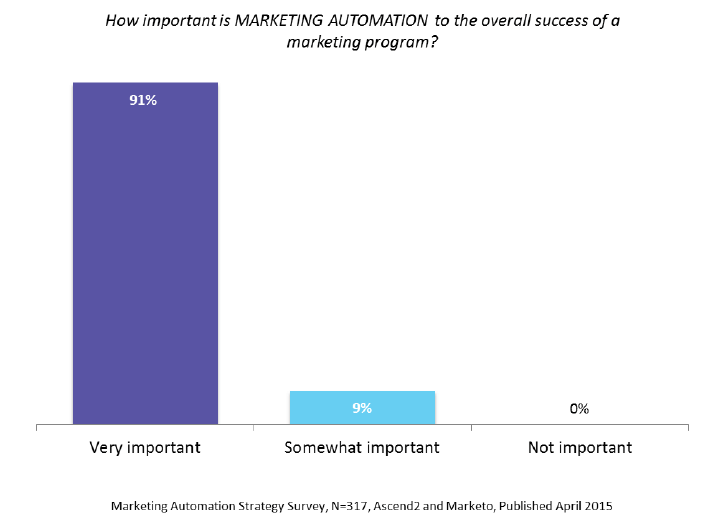 How does B2B marketing automation work?
Perhaps the best way to think about marketing automation is to see it as an endless combination of If This, Then That algorithm.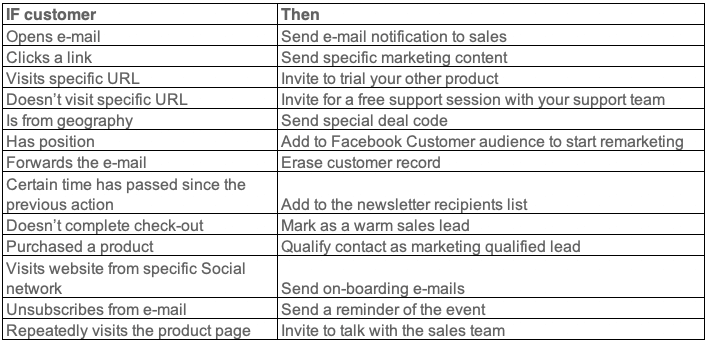 To make most of the marketing automation, it is often worth considering integration with CRM to ensure seamless information flow with a sales department. Companies that are providing SaaS services may want to have integrations that enable to run of various automation depending on the customer's use of the service.
As an example, companies frequently use marketing automation to help onboarding their users or provide support options, if the use of service indicates that the user is having difficulties.
Making use of Machine Learning
An increasing number of marketing technology providers include various Machine Learning and AI-based elements in their solutions.
Machine learning allows to improve personalization and deliverability of messages based on previous records, as well as perform such advanced tasks as predicting the likelihood of a deal based on the prospect's profile and behavior information.
With or without Machine Learning, marketing automation solutions usually include rich possibilities to perform A/B testing and consequently significantly improve the efficiency of your pipeline over time.
Which is the best marketing automation for B2B?
The market of marketing technology is rapidly expanding with thousands of various solutions available. 
The image below attempts providing and overview, however, because of the massive number of market entrants, displaying their names becomes almost impossible.
If your team are mature marketers with a clear strategy, buyers journeys and clear KPIs you want to achieve, probably some of the most appropriate would be notable vendors in this space such as Hubspot, Salesforce's Pardot, Magento (all US companies). These are solutions with broad functionality and a very premium price tag.
If you strictly want to keep your customer data in the EU, local players such as SALESmanago (a Polish company) or Elane by Germany's Artegic would be appropriate.
In case you are already working with Microsoft Dynamics 365 products, it may worth trying our Microsoft own automation that was recently announced. When reviewing it couple of year back, we found it more complicated to use than other products we tested, however, there is a compelling benefit to sticking with Dynamics because of tight integration of extended product family of x365.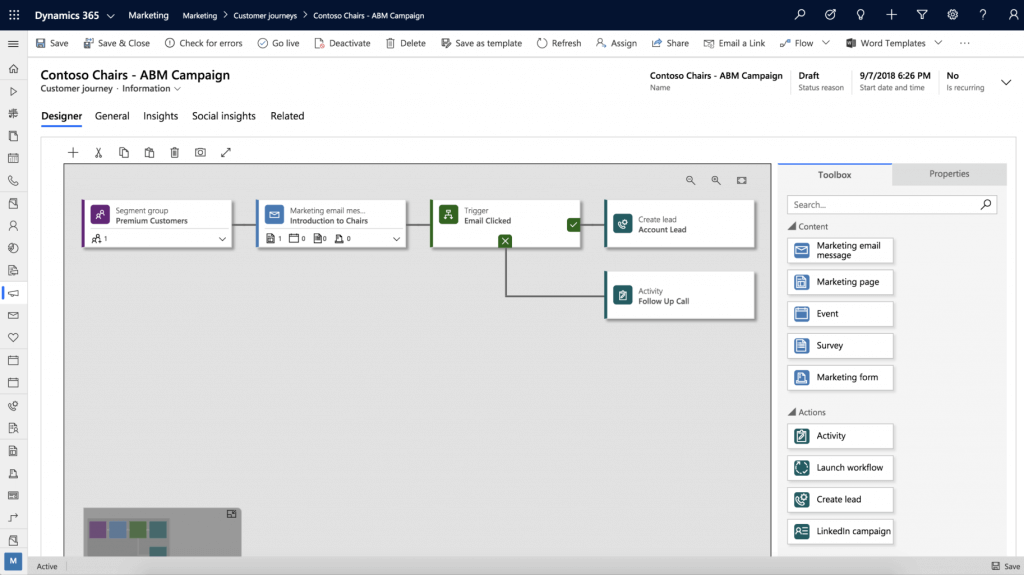 We use and recommend Active Campaign. According to user review website g2.com, it is a leading automation platform. What's more – it comes at a rather reasonable price.
After some product research and number of tests, we have settled for Active Campaign here at IBD Consulting and recommend this platform to our customers.
How to implement marketing automation?
As with other sophisticated technologies that impact the daily work of many other people, it is best to start small and automate activities that otherwise take a lot of effort.
A good starting point would be to start using marketing automation to deliver your newsletters and see what you can learn about your recipient's behavior.
Did they visit your website?
Were they interested in pages related to offering in the newsletter?
Should you perhaps set-up notifications to your sales team when such customer behavior is recorded?
Similarly, you can automate the delivery of marketing content. Try implementing a simple form asking customers for their e-mail before they can access a brochure.
See what happens.
Chances are you will increase your customer contact list.
Also, you may be able to pinpoint for your sales team those prospects, who clicked on a brochure, visited the website several times and demonstrated another behavior that indicates serious buying intent.
Another simple step would be to implement a call scheduling tool for your sales team.
Just being able to provide customers with a link to schedule calls can dramatically save sales team efforts, especially if they deal with customers in other time-zones.
This ability is particularly important if it is a high stake online meeting involving multiple people, such as an online product demonstration that also requires engineers to participate.
While these small improvements make sense, to truly benefit from marketing automation and drive business growth, it is necessary to start by planning product strategy, customer journey and developing respective marketing content.
Our experience shows that implementation of marketing automation works best if it is done as a part of a broader marketing strategy / campaign planning approach. In most cases, we work closely with our client teams to enable them to work with automation over time on their own.
Conclusion
If you are in B2B business and are serious about growth, marketing automation is a necessary growth enabler.
Can't do without it!
In fact, marketing automation is the most used tool by successful Microsoft partners right after CRM and e-mail.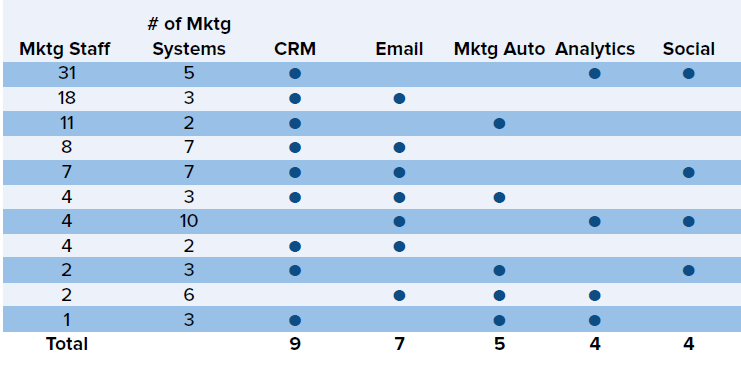 As the market for online advertising matures and prices go up, it becomes increasingly important to use the communications channel that you own – e-mail.
Another aspect of why it is worth looking into marketing automation right now is competition. While marketing automation is routinely used in the US, Europe is badly lagging with some reports stating only 4% of EU websites use some sort of automation. Perhaps it is the right time to invest in marketing automation to surpass the competition or at least catch up with the US.
Would you like to know how your company can benefit from automation? Go ahead and schedule a call with me (and use a neat little automation)!